One of the most popular formats for movie files is AVI, which is usually large because it comes with a lower compression ratio which retains the quality to a great extent. But there may be certain parts of the file you want rid of, or parts you want to keep as a separate file. In that case, AVI splitter is a good pick for point-and-click cutting and splicing of video files. In fact, splitting an AVI file is actually a pretty simple process and doesn't take that long as long as you get a right AVI splitter. In this post, we will introduce two professional reliable AVI splitter program to fast split AVI files with original quality.
AVI Split With VirtualDub
First, we will be splitting AVI file using VirtualDub, which is free software for Windows-based machines licensed under the GNU General Public License.
Step 1: This is VirtualDub's window. Just click "File" > "Open Video File" and open the AVI file that you want to split.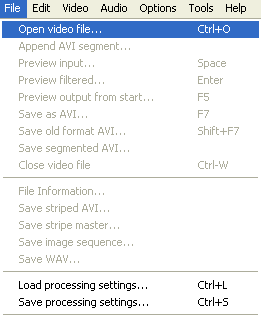 Step 2: Time for some settings! Select "Video" and make sure that "Direct stream copy" is selected.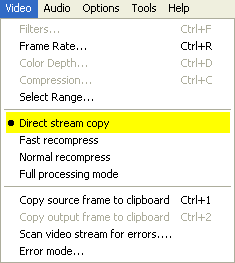 Step 3: Now select "Audio" and make sure that "Source audio" and 'Direct stream copy" are selected.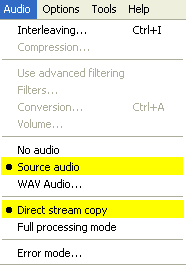 Step 4: Now click the highlighted button to go to the last frame.

Step 5: (1) Divide the frame number with 2 and write down the result. In this situation 145416/2 = 72708. Then click button (2) and after that button (3).
Step 6: Now go "Edit" > "Go to..."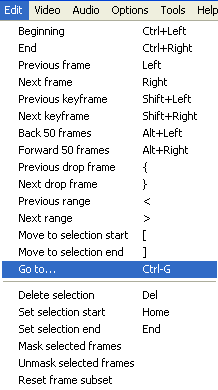 Step 7: Select" Jump to frame number" and write down the value you found before. Click "OK".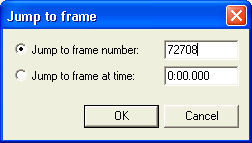 Step 8: Now click the highlighted button.

Step 9: Select "File" > "Save as AVI" and save the first part of the movie.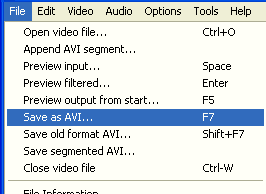 Step 10: After saving click button (1) and after doing that button (2).

Step 11: Then click button (1) and then button (2).

Step 12: Now select again "Save as AVI". That's it. You are done.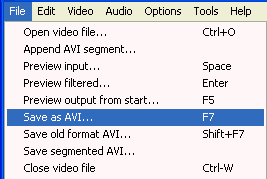 Reference: AVI Split With VirtualDub
Recommendation: The Best AVI Splitter - Pavtube Video Converter
Pavtube Video Converter is a wonderful AVI splitter for Windows that has an intuitive interface for easy use. It as a wide range of editing features making it a one-stop shop for all video editing purposes. If you want to quickly split an AVI file into multiple pieces with no quality loss, Pavtube will be your best choice:
Why choose Pavtube Video Converter:
> Not only split AVI file, but also split other video files with various file formats.
> Offer 3 different way for you to split large video files into small parts: by file size, file count or time length.
> Other editing function like flip or rotate video to get it displayed in the right angel, trim or cut video files to remove unwanted parts or segments, crop video to remove the unwanted black bars or area, add image/video/transparent text watermark to video, apply special rendering effect to video, remove/replace audio in video or merge separate video into one file.
> Before splitting AVI files, this video editor lets you freely customize the video audio parameters like video audio codec, frame rate, resolution, bit rate, etc.
> For Mac users, navigate to download Pavtube Video Converter for Mac to split AVI files on macOS High Sierra.
Pavtube Video Converter User Guide: How to Split AVI Video Files
Step 1: Import AVI file for splitting
Select the AVI movie files for splitting and drag them to the program. You can also import file by clicking "File" > "Add Video/Audio" or "Add from folder" at the top of the AVI splitter program.
Step 2: Define output file format
This AVI Splitter also works as a video converter. From "Format" bar drop-down list, select one of your desired file format to output. If you don't want to loss any file quality, just select to output the same video as original file format.
Step 3: Begin to split
By clicking the "Split" button
under the file displaying list, checking "Enable" to enable it, and then you can split the file by file count, time length, or file size according to your own needs.
Step 4: Save the split AVI file
When you get your wanted AVI segment, click "Browse" button on main interface, you can choose the directory where you'd like to put the output files. Then press the right-bottom "Convert" button to start the large AVI video into small parts or segments splitting process.
When the AVI splitting process is completed, you can find your converted files by clicking "Open output folder" with all splitted small files for convenient sharing, emailing and distributing.